In every organization, it is important to be able to manage your employees well. This holds particularly true among knowledge and professional services companies where human capital is their most valuable asset. In general, whether you're a manager or an individual contributor, there is a need for knowing employees well. This means knowing others' backgrounds and skill sets. For the marketing and sales function, there is also a need to properly plan the available resources for current and future project engagements. My Team strives to address these needs by providing online personnel records of the entire company.
Accessing My Team
Click on the My Team link in My Tools, which is found on the right-hand side of the Community Dashboard.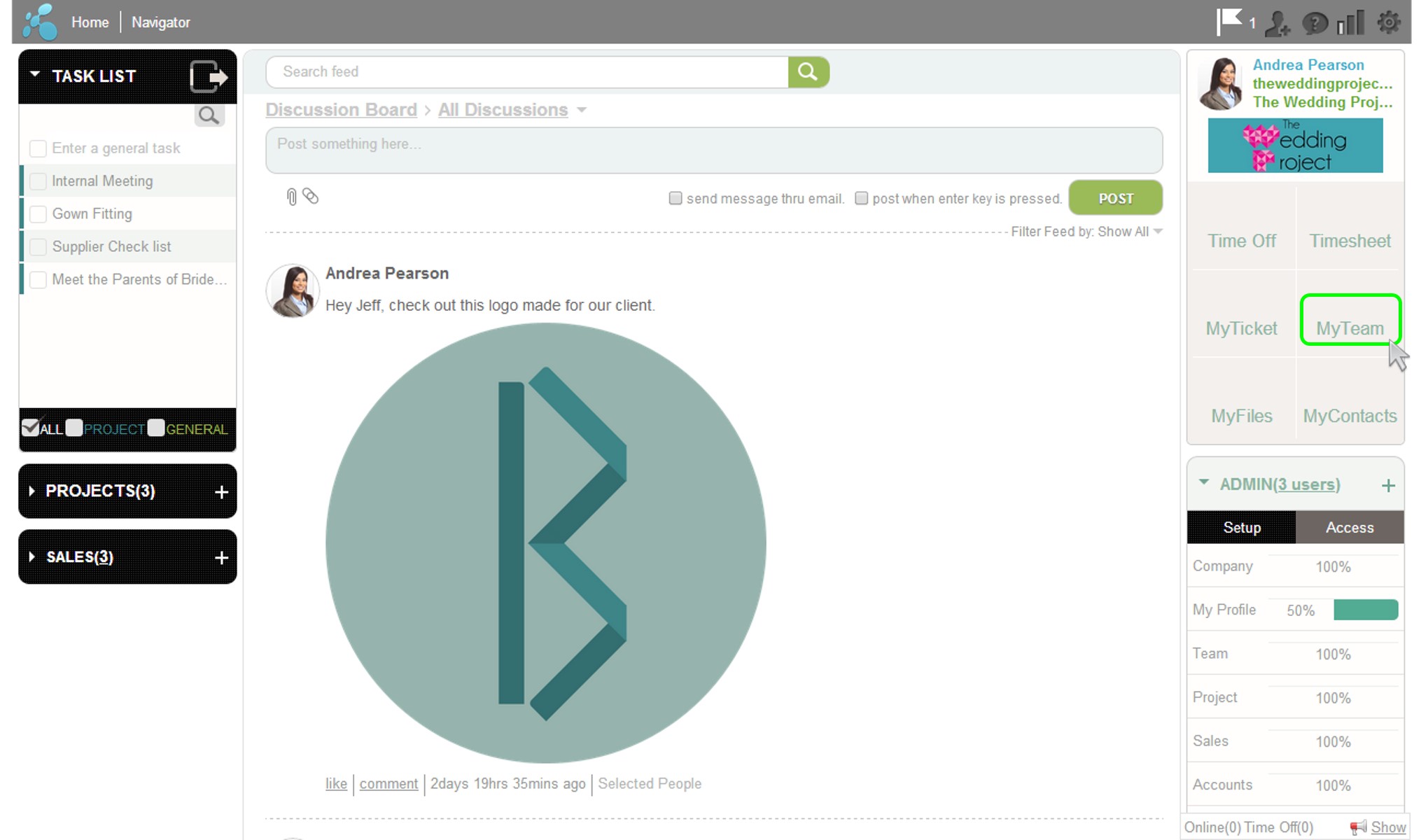 My Team  has 2 views: HR View and Non-HR View were each view has its own access to certain information.
For HR Users
Once you land on My Team, you will find the Setup Button if you have an HR access. In it, you can setup the following needed to manage your employees:
1.) Departments 
2.) Time Off Types 
3.) Employment Statuses 
4.) Job Positions 
Once you are done with Setup, you will find the following details that you can update:
1. Employment Details
2. Paid Time Off
3. Department
4. Reports To (Supervisor)

Non-HR Users
If you are not as Admin user or has the same access rights, you will only be allowed to view the following:
1. Department
2. Deployment
3. Position of other Team Members
Non-HR users will not have any access to edit information within My Team except their own profile. You can edit your own profile manually by clicking on the pencil icon to edit and input all details.
 You can also Sync to LinkedIn Profile by clicking on the button. 

Time Off
You can now manage time offs online that can help you make decisions on staffing and determine resources at your disposal. Organize your team, update employee information and manage time offs online more efficiently.

See who's on leave
When you are aware who's available, it makes it easier for you to delegate tasks. Now, you can view team members on leave with a click. Go to Time Off found on My Tools.
Select Team Members to view your teammate on leave.
Approving Time Offs/Remote Work
To approve a time off or a remote work simply click on Request Approval where it will display a list of requests whether it is a Time Off or Remote Work request. Select deny or approve to action the request. If you want to get a summary report click on Reports found in Time Off to help you manage your staffing.
Managing your employees has never been this easy. Because its online, you can approve time off/remote work requests, update and view employee information anywhere and anytime.
Get the information you need about your team members using My Team. This video will teach users with HR app access rights to setup their employee records. Once the records have been setup, users can also start using the Time Off feature.